Charity
Supporting Charitable endeavors is an integral part of Three Piece Suit Football. As such, TPSF is dedicated to supporting Military Veterans and American families through our various games and events. The Atlanta Chapter of TPSF has supported the Georgia Chapter of Pets for Vets for the last three years, while the Boston Chapter has supported Operation Delta Dog for the last three years.
TPSF and Pets For Vets – Georgia Chapter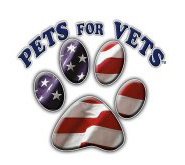 At this year's Atlanta game, TPSF is again supporting Pets For Vets – Georgia Chapter! Pets For Vets is a non-profit organization that helps rescue homeless/shelter dogs and trains them to be service animals for veterans in need! This chapter works locally with Georgia Veterans to meet their needs and match them with a dog that will aid in helping the Veteran to cope with a variety of issues including PTSD, TBI, and other medical issues.
Two simple ways to donate/support Pets For Vets GA Chapter right here on our website:
1.) Click here to purchase a "$10 For a G" Raffle Ticket that will be drawn at the conclusion of TPSF X with a chance to win one of three prizes including $1,000 Cash (1st place). Purchasers do NOT have to be present to win! Click here for more details on the raffle listed on our TPSF X Charity Festival Page.
2.) Click the DONATE button below to make a general donation to PFV with our secure PayPal!