TPSF Boston Charity Golf Tournament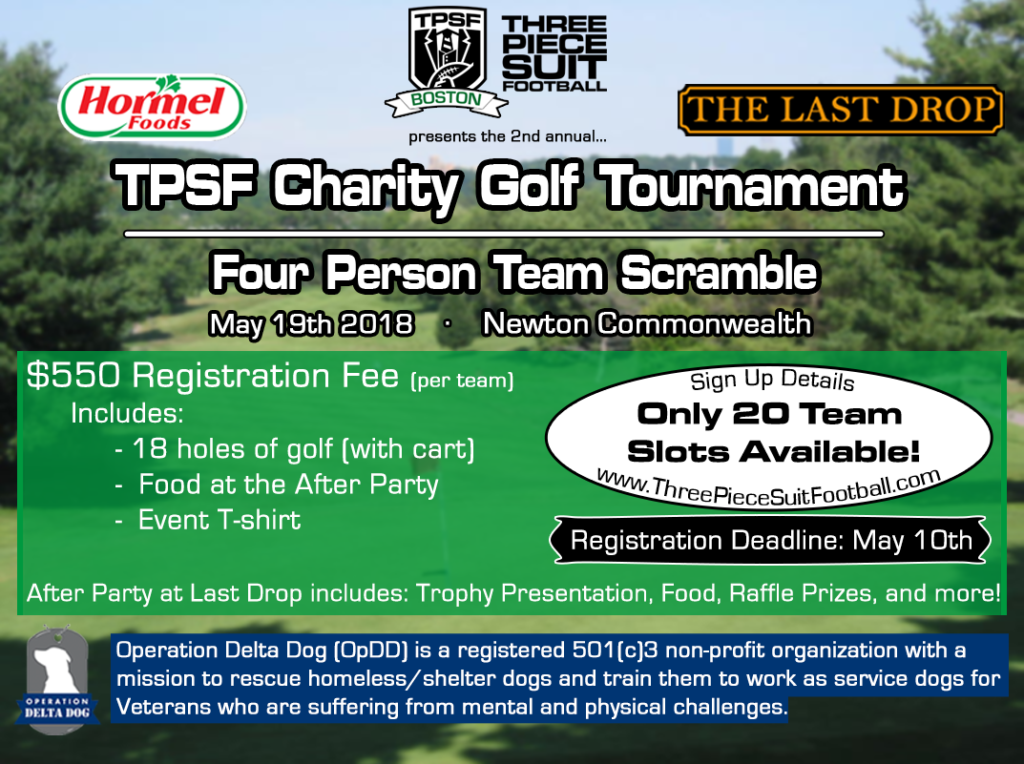 Event Details
TPSF Boston is having our 2nd annual charity golf tournament at Newton Commonwealth on 05/19/2018! Tee times start at 10:00 AM SHARP and the order will be determined as soon as all the teams are registered. The registration fee is $550 ($137.50 per player) and spots are limited to 20 teams (3 spots left) so be SURE to register soon! Click here to register a 4 person team online! Click here to download a Team Registration/Sponsorship Form. This form can be used for Team Registration or for hole sponsorship and can be filled in and brought to the Last Drop in Brighton with payment for Teams/Sponsors who do not want to pay online. Don't want to play? Sponsor a hole or purchase a "$10 for a G" Raffle ticket to donate to our charity and win a chance at $1000! Hole Sponsors will have their logo present on a designated hole on the course. Teams which sell the most "$10 for a G" Raffle tickets will get a special prize! Click here to purchase "$10 for a G" Raffle tickets online. We are also looking for volunteers!
Registered teams get a team photo, TPSF Golf tournament T-shirts, 18 holes, a golf cart and free BBQ (Ribs, Sausages, Chicken, Burgers, Hot Dogs) provided by Hormel Foods at the after party at The Last Drop! Players will receive 2 drink tickets for the after party as well! May the best team win! The after party will start around 5:30PM…PLEASE BRING FRIENDS! There will be the "$10 for a G" Raffle, Trophy Presentation and many other Raffle Prizes! All proceeds go to our charity Operation Delta Dog! Good luck golfers, and thank you for being part of such a great event and donating to an special cause!
Golf Tournament Prizes
First Place:
TPSF Golf Tournament Championship Trophy/presentation!
Foursome at the Quechee Club in Quechee, Vermont with swag
Second Place:
Gift Package at Splitsville Luxury Lanes at Patriot Place
Third Place:
Foursome at the Newton Commonwealth golf course with swag
Raffle Prizes
Here's the list of Raffle Prizes for the TPSF Charity Golf Tournament After Party at the Last Drop:
$10 Raffle Prizes
First Place:
"$10 for a G" Raffle
Second Place:
40′ Samsung Smart TV
Raffle Prizes
2 sets of Red Sox tickets against the Blue Jays May 29th and Sept 11th w/hats
Twosome at the Granite Links Golf Club in Quincy
SOS Fishing Charters Four Man Fishing Charter
Black Bose SoundSport Wireless Headphones
Black Bose SoundLink Color Bluetooth Speaker II
Operation Delta Dog Gift Basket
Guinness Gift Basket donated by the Corrib Pub
Sam Adams 12 pack and Patio Umbrella
Mike's Hard Lemonade 12 pack and Patio Umbrella
Nike Adult Unisex Golf Bag
Gift Certificate package donated by the City Tap House in Boston
Gift Basket/Certificate donated by the Union Oyster House in Boston
Gift Basket/Certificate donated by The Colonial House in Norwood
TPSF Gift Basket: TPSF Hoodie, Pint glass, T-Shirt and hat
We will also have some hole contests provided by Dixon Golf where you can win some Dixon golf balls or a chance to win an Aurelius Emperor Driver or a Zovatti watch!
Hole Sponsors
TPSF Boston Charity Golf Tournament Defending Champs
Lulu's Allston
Cuddy Brothers (2 signs)
Hormel Foods
Three Twins Productions
West Roxbury Elks
Alamo Construction
The Corrib Pub
Alumni 836, Courtney Rego
Boston PD
CoCo Early Real Estate Agency
USMS
The Patch Of Grass Band
Over The Rainbow Family Childcare, Inc
The Leaning Tree Preschool
The Fishing Academy
Sweet Annie
Kerry & Lindsey In loving memory of Brian & Big Scott
Kerry & Lindsey In loving memory of Phil O'Donnell
Golf Scramble
A golf scramble is a format for golf tournaments where two or more players form a team to play, with the rules emphasizing fun without the pressure of players keeping individual scores. Each player hits a tee shot on each hole, but everyone plays from the spot of the best shot, subject to certain criteria. Rules for playing in a scramble are informal, with tournament organizers modifying basic rules as they wish. The scramble format is not covered under the official Rules of Golf.
How to play:
Each member of the team tees off from the starting hole. In a scramble tournament, the team's opening hole could be any hole on an 18-hole course, depending on the assignment by tournament organizers. Players can tee off with the golf club of their choosing—not necessarily a driver. The best tee shot is chosen through general consensus of the scramble team. The group can decide the best tee shot based on any criteria they choose. Usually, the best shot is the longest drive that lands in the fairway, though the team may choose a long tee shot that landed off the fairway in the rough if there is a decent lie.
The spot of the best tee shot is marked with a golf tee or ball marker. Players must pick up their golf balls and hit from within one club length of the newly marked spot. Team members continue selecting the best shot until one player hits the ball in the hole. The team score is the total of the best shots.
Tips:
If you are selecting a scramble team, try to include at least one player who can hit good tee shots with the driver. Good tee shots will put your team in a good position for its second shot. Having a player who has good short-game skills also helps, especially putting.
Team Leaders and Tee Times:
10:00 AM: Tommy Reilly
10:10 AM: Farish Jenkins
10:20 AM: Cameron Miller
10:30 AM: Scott Williamson
10:40 AM: Chris Sullivan
10:50 AM: Joe McGowan
11:00 AM: Joe Butts
11:10 AM: Nate Klippenstein
11:20 AM: Chris Callinan
11:30 AM: Jimmy Felton
11:40 AM: Billy O' Sullivan
11:50 AM: Corey Sheehan
12:00 PM: Rob Blish
12:10 PM: Thomas McMahon
12:20 PM: Kristen Audet-Fucarile
12:30 PM: Joe Prince
12:40 PM: Austin Cannon
Team leaders, please have your team at the golf course at least a half hour before your tee time to take photos, get player bags. Player shirts will be passed out at the after party at the Last Drop in Brighton.
Stay tuned. All additional details of the golf tournament will be posted here.