TPSF Boston Charity Golf Tournament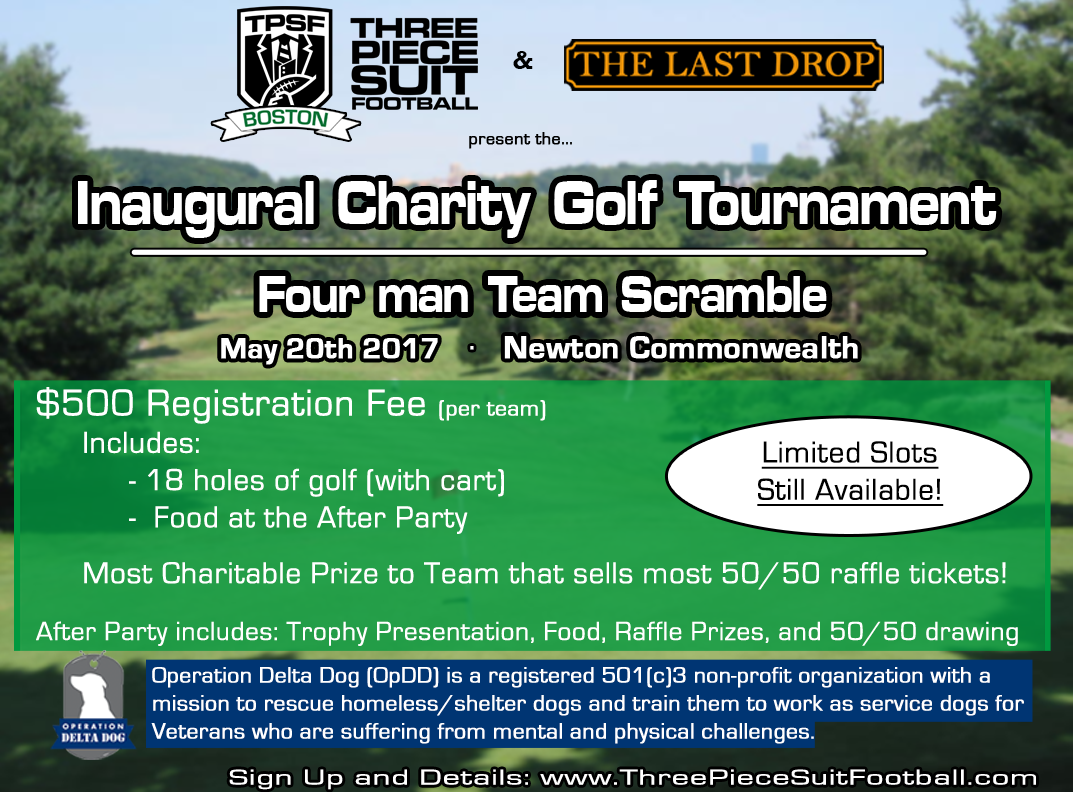 Event Details
TPSF Boston is having a charity golf tournament at Newton Commonwealth on 05/20/2017! Tee times starts at 10:50 AM. The registration period is now over but 50/50 Raffle tickets are still available! Teams/Individuals which sell the most TPSF 50/50 raffle tickets get a special prize! Click here to purchase 50/50 Raffle tickets online.
Registered teams get 18 holes, a golf cart and free BBQ (Ribs, Brisket, Sausage, Chicken, Burgers, Hot Dogs) provided by Hormel Foods and US Foods at the after party at The Last Drop! May the best team win! The after party will start around 5:30PM…PLEASE BRING FRIENDS! There will be a 50/50 Raffle, Trophy Presentation and many other Raffle Prizes! All proceeds (besides tournament winnings/prizes) go to our charity Operation Delta Dog! Good luck golfers, and thank you for being part of such a great event and donating to an special cause!
Raffle Prizes
Here's the list of Raffle Prizes for the TPSF Charity Golf Tournament After Party at the Last Drop:
50/50 Raffle
The Cheesecake Factory gift card ($50)
Lulu's Allston gift card ($50)
Free haircut/massage gift card
Signed Torey Krug puck
Yuengling Pub Table
Yuengling Mini Fridge
4 sets of Sox Tickets
Angry Orchid Free Standing Tree Swing Chair
Bud Light Cooler
Modelo Cruiser Bike
Smirnoff Mule basket
Jack's Abbey gift basket
Gillette Razor baskets (his and hers!)
Bose SoundLink Bluetooth speakers
Golf Scramble
A golf scramble is a format for golf tournaments where two or more players form a team to play, with the rules emphasizing fun without the pressure of players keeping individual scores. Each player hits a tee shot on each hole, but everyone plays from the spot of the best shot, subject to certain criteria. Rules for playing in a scramble are informal, with tournament organizers modifying basic rules as they wish. The scramble format is not covered under the official Rules of Golf.
How to play:
Each member of the team tees off from the starting hole. In a scramble tournament, the team's opening hole could be any hole on an 18-hole course, depending on the assignment by tournament organizers. Players can tee off with the golf club of their choosing—not necessarily a driver. The best tee shot is chosen through general consensus of the scramble team. The group can decide the best tee shot based on any criteria they choose. Usually, the best shot is the longest drive that lands in the fairway, though the team may choose a long tee shot that landed off the fairway in the rough if there is a decent lie.
The spot of the best tee shot is marked with a golf tee or ball marker. Players must pick up their golf balls and hit from within one club length of the newly marked spot. Team members continue selecting the best shot until one player hits the ball in the hole. The team score is the total of the best shots.
Tips:
If you are selecting a scramble team, try to include at least one player who can hit good tee shots with the driver. Good tee shots will put your team in a good position for its second shot. Having a player who has good short-game skills also helps, especially putting.
Tee Times (Team Leaders):
10:50: Criscuolo
11:00: Dwyer
11:10: Reilly
11:20: Miller
11:30: Peaches
11:40: Williamson
11:50: McMahon
12:00: Felton
12:10: Quinn
12:20: Kervin
12:30: McGowan
12:40: Sheehan
12:50: Daponta
1:00: Nash
1:10: A/B Warriors
1:20: Dixon
Stay tuned. All additional details of the golf tournament will be posted here.
Recap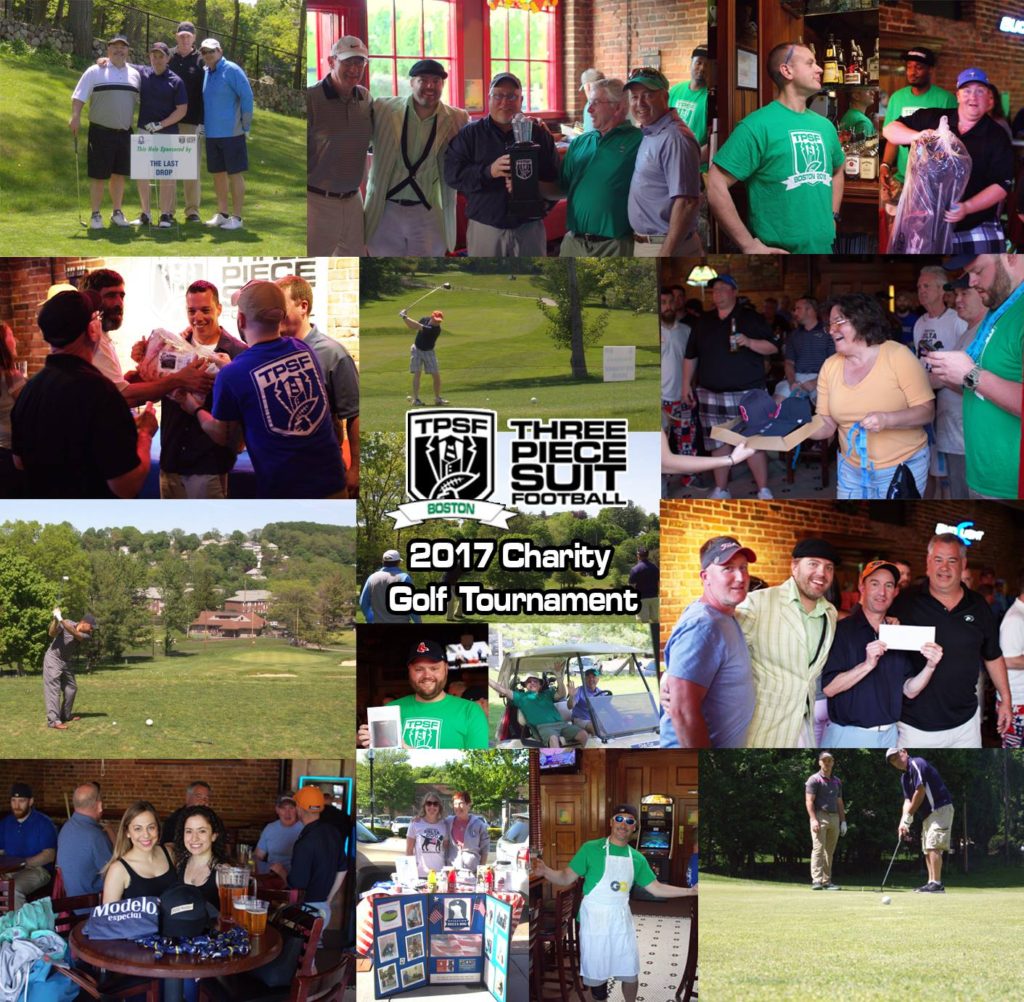 We raised $6,425 to support Operation Delta Dog! This is the most we've raised at a single event in TPSF Boston history! In addition to all the golfers, we'd like to thank John and Robbie Bligh, Franny Miller, Imelda Kerins and all our good friends at The Corrib Irish Pub for their generous raffle packages and support, Ullisa Benoit and Coco, Early & Associates: The Dracut Office, John Hoffman and the Fishing Academy, David Dixon and Dixon Masonry, Olive McSweeny and Over the Rainbow Childcare, Matt from Hormel, Mike and Doug with The Last Drop, Seamie and Devlin's Restaurant, ALL ABOUT SIGNS LLC for the sponsor signs, and all our other hole sponsors and individuals who came to the Tourney/After Party to support such a great cause and event!