The Trophies
Our unique trophies have become an integral part of TPSF. Some were crafted by our own Seth Aufderheide, while others were thrift-store finds. Regardless of the origin, any of these trophies brings with it a sense of pride and honor for the recipient.
---
Champions Cup: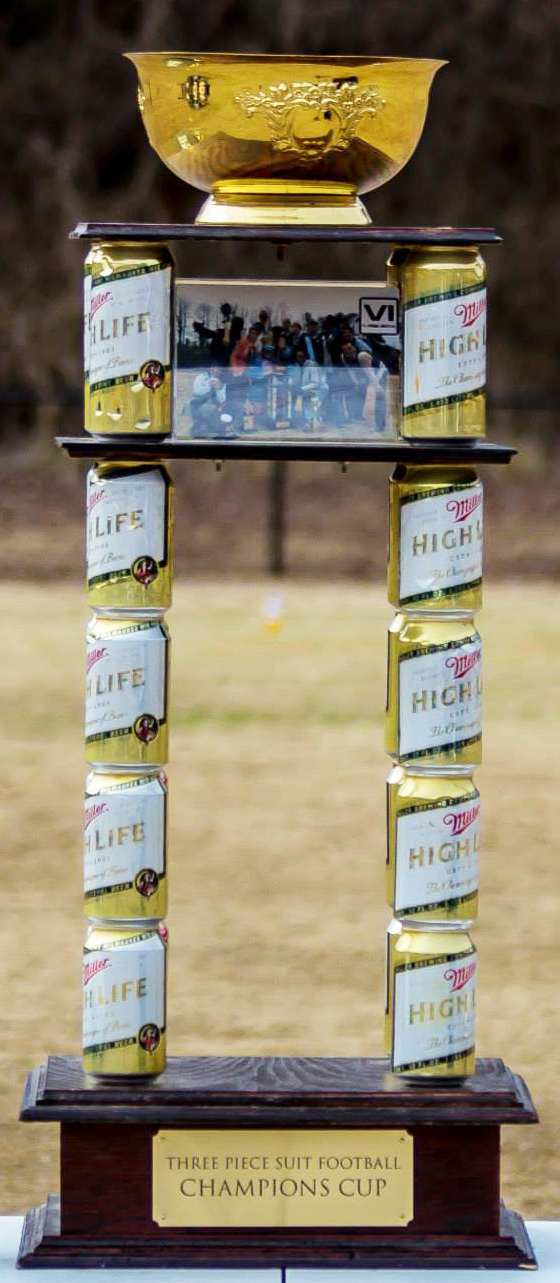 The TPSF Champions Cup is awarded to the players on the winning team of that year's game. The Champions Cup was inspired by the NHL's Stanley Cup, with TPSF-inspired flair, of course. To drink from the Champions Cup is an honor only bestowed upon those on the winning team.
Most Valuable Player: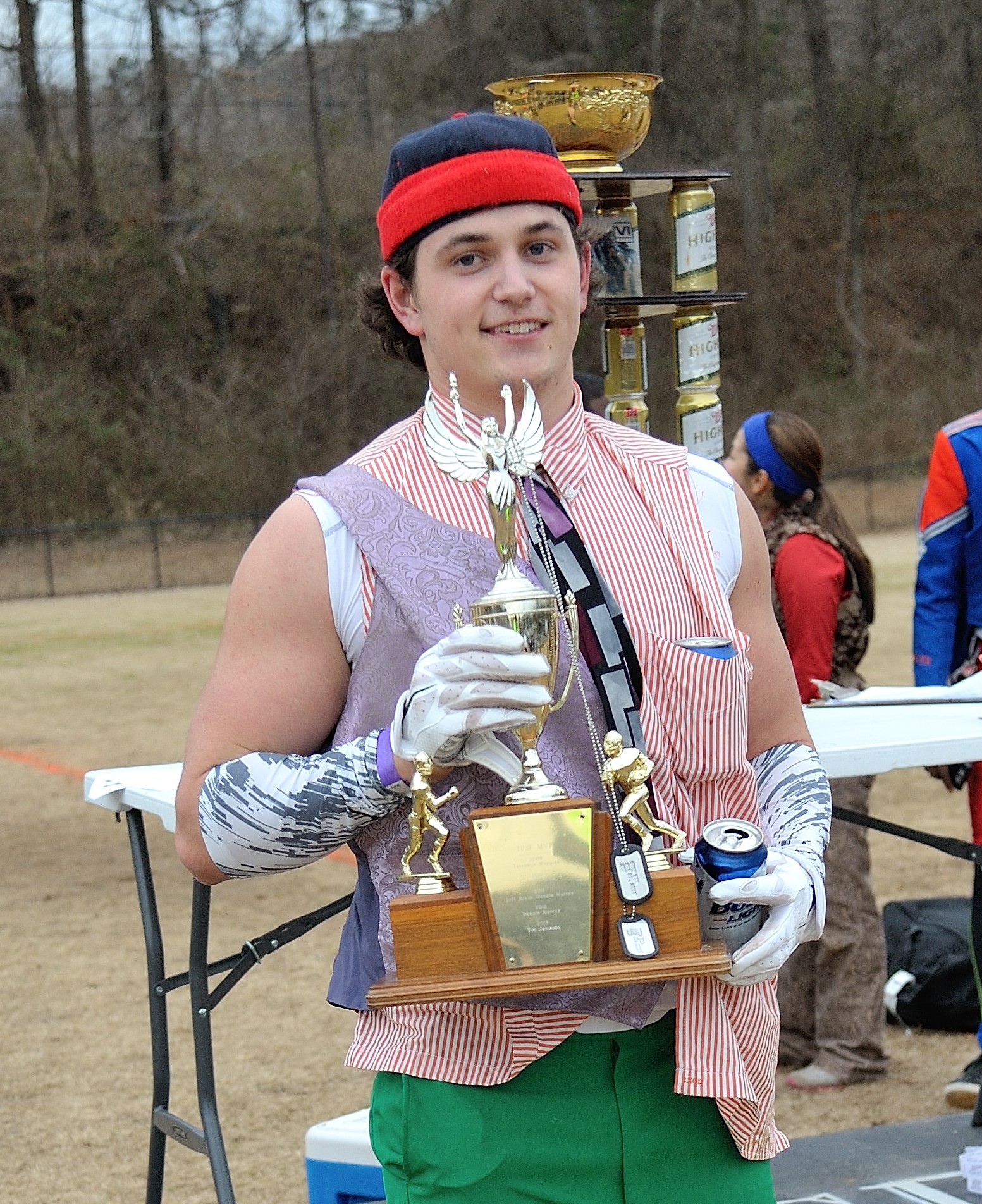 This trophy, the oldest in the TPSF family of trophies, quite simply honors the Most Valuable Player of the game. The MVP award is voted on by the players after the game.
Past Winners:
   2009 Terrance Wiggins
   2010 Deandre West
   2011  Joff Braio & Dennis Murray
   2012  Dennis Murray
   2013  Tim Jamison
   2014  Desi Ramos
   2015  Ryan Powell
Best Dressed: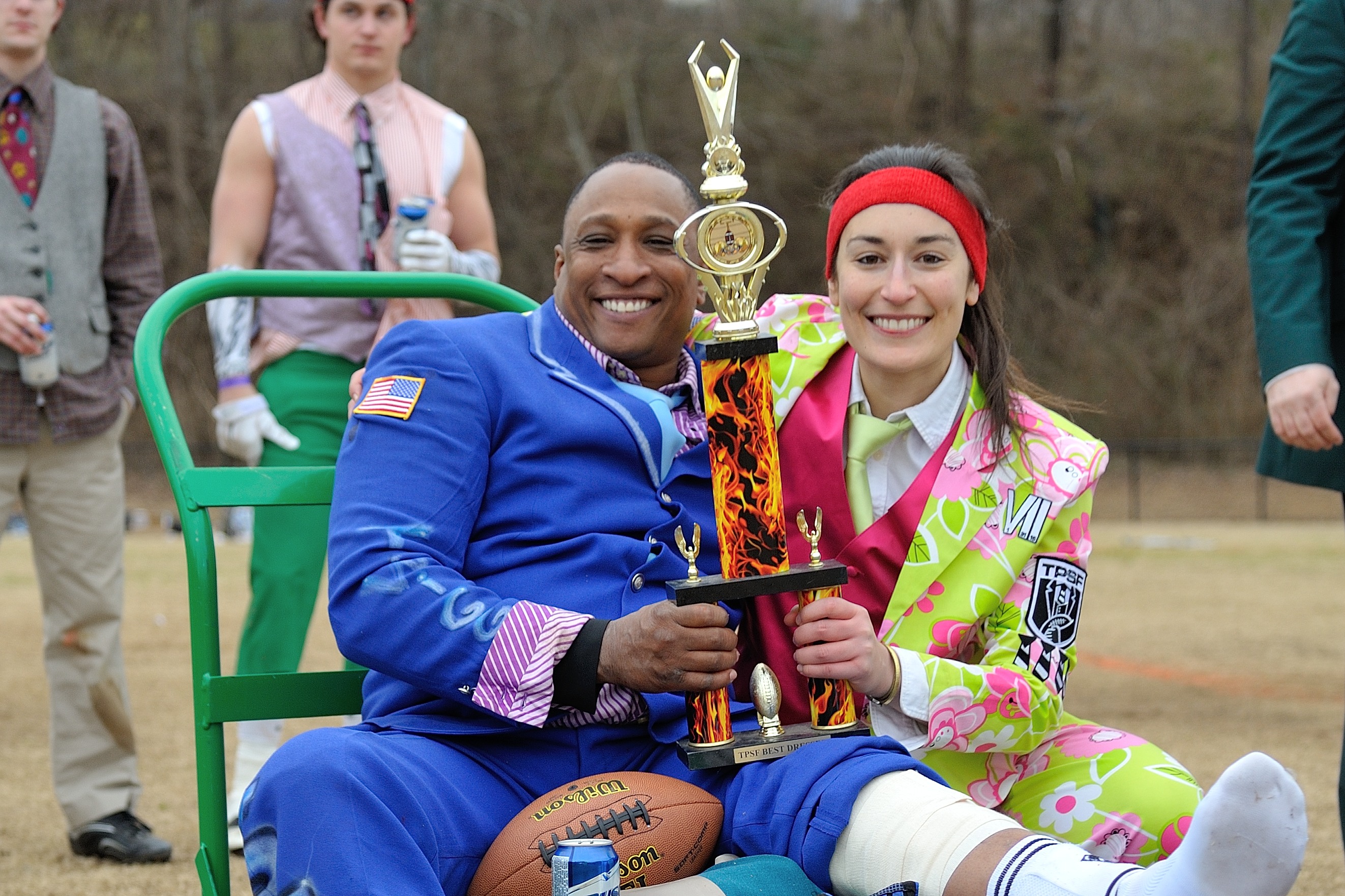 The Best Dressed award is given to the participant (player or otherwise) who exemplifies the most unique style during that year's game. Players vote for their top three suits the night before at TPSF Eve, with fans selecting the winner at the actual game.
Past Winners:
       2011    Matt Miller
       2012    Amy Ross
       2013    Austin Robertson
       2014    Tash Ludwig
       2015    Tash Ludwig & Terrance Wiggins
Most Charitable: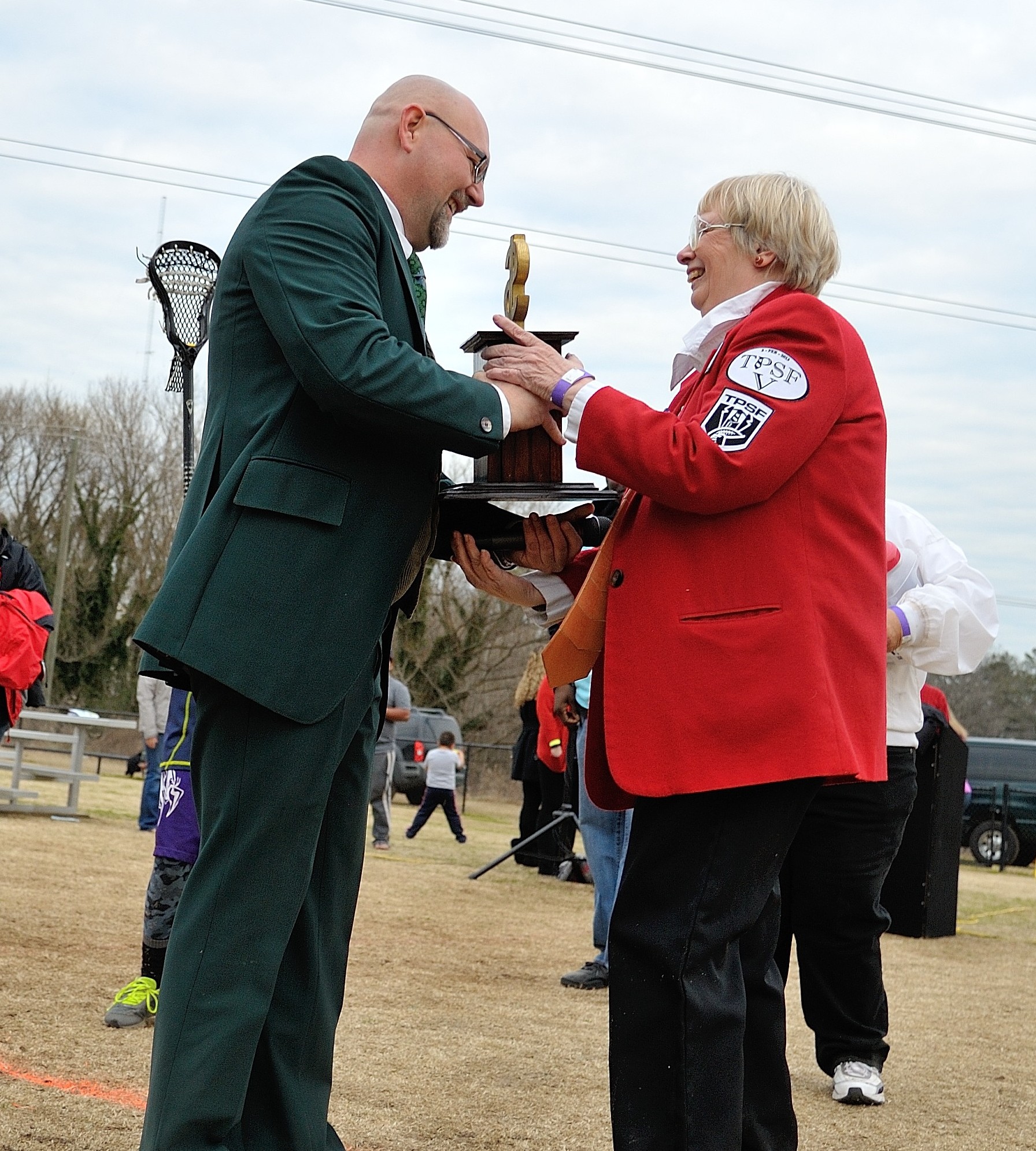 As charity is one of the three tenets of TPSF, we honor the individual who raises the most donations to support our charitable endeavors leading up to each game. Each year as we advance toward the actual game Super Bowl Weekend, TPSF players and supporters reach out to family and friends for donations to support returning veterans and their families.
Past Winners:
       2013    Natasha Ludwig
       2014    Shannan Edwards
       2015    Paulette Miller
"Got Lit Up" Trophy: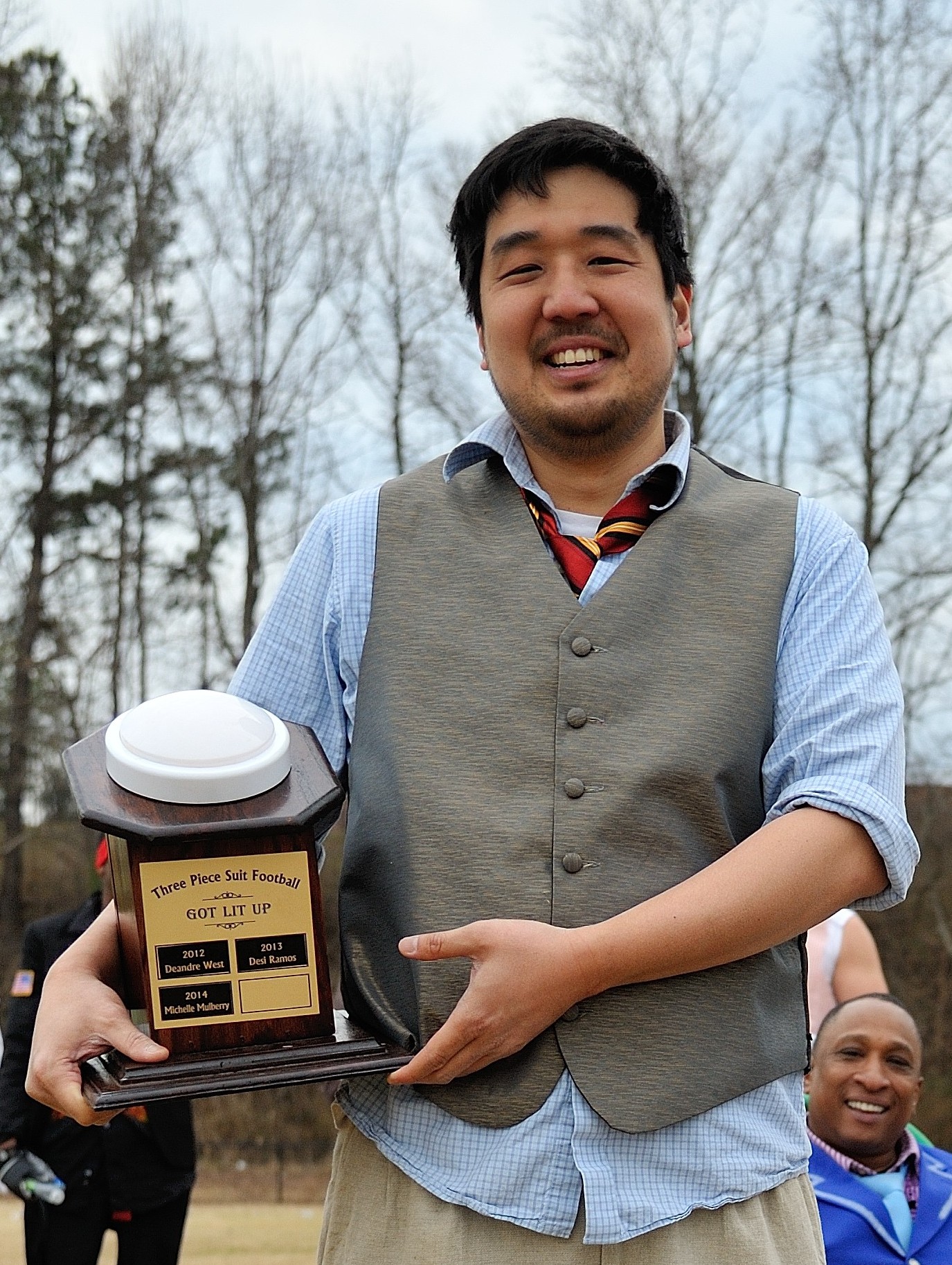 The Got Lit Up Trophy honors the individual who, well, got lit-up the worst (or best, however you choose to see it). In good fun, this trophy honors the individual who was on the receiving end of the best hit of the day.
Past Winners:
       2012    Deandre West (hit by T-Wiggs)
       2013    Desi Ramos (hit by T-Wiggs)
       2014    Michelle Mulberry (hit by Busby during "coin toss")
       2015     Leo Lee (hit by Desi Ramos)
Game Ball Award: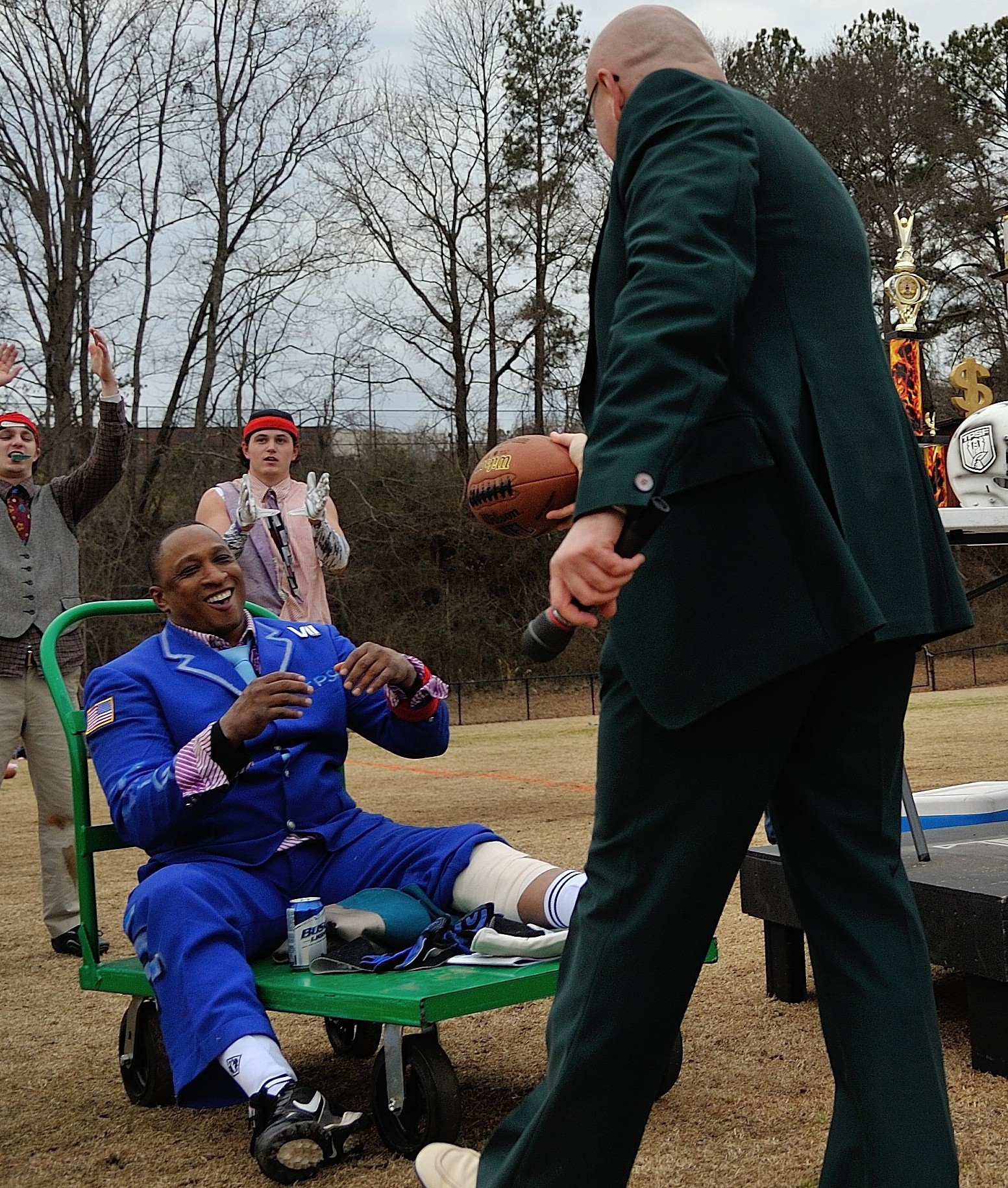 Each year, TPSF uses a new game ball that each player autographs at the end of the game. Following the Game, before any other trophies are given out, the game ball is awarded to the TPSF member who exemplifies the principles of TPSF both on and off the field.
Past Winners:
       2012    Joff Braio
       2013    Matt Miller
       2014    Cameron Miller
       2015    Terrance Wiggins
Man-Up MVP Belt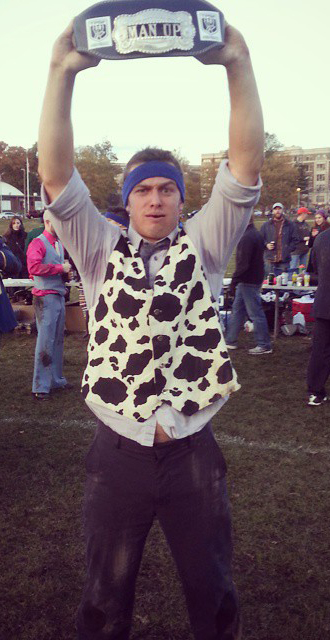 Our Boston Chapter, which began in 2014, currently gives out an MVP "Man-Up" belt that is awarded to the MVP of that game.
Past Winners:
       2014    Anthony Cunningham

       2015    Henry Breckenridge

       2016    Joe McGowan