Boston Charity 2016
TPSF and Operation Delta Dog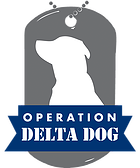 For the third year in a row, TPSF is supporting Operation Delta Dog (OpDD)! As a registered 501c3 non-profit organization, OpDD's mission is to help rescue homeless/shelter dogs and train them to be service animals for Veterans in need! OpDD works locally with Massachusetts Veterans to meet their needs and match them with a dog that will aid in helping the Veteran to cope with a variety of issues including PTSD, TBI, and other medical issues.
There are several ways to support this great cause for this year's Three Piece Suit Football Game!
50/50 Charity Raffle:

Leading up to and during the game, TPSF players and members are selling $10 50/50 raffle tickets to support the Charity. For every $10 donation made online (see secure PayPal link below), a 50/50 ticket will be filled out in your name! If you're buying tickets support a particular player/member, please note that in the message box. Upon receipt, an email verification of your donation will be sent. IMPORTANT: You DO NOT have to be present at the 50/50 drawing to win. We will have your email/phone contact when you purchase tickets and will notify you if you win and are not present at the event!
Important Info for potential donors:
What is a 50/50 raffle? A "50/50 raffle" is when half of the money will go to support the charity (in this case, Operation Delta Dog) and the other half will go to the winner.
Donors do NOT have to be present to win
We haven't set a cap on the number of tickets sold, but last year we sold over 300 with the winner taking home over $1,000 in CASH.